Milan Malpensa Airport is a welcoming place for smokers. It is allowing passengers to smoke inside multiple designated "Smokers boxes". There are five located in Terminal 1 and one in Terminal 2. Besides the smokers boxes, it is also allowed to smoke directly outside of the terminal buildings.
Use the selectors below to check out the smoking areas per terminal:
When flying to Italy, there is a high possibility that you will fly to Milan Malpensa Airport. It is the second biggest airport of the southern European country, with 29 million annual passengers. Malpensa is the most important airport for the economy of northern Italy.
Terminal 1
All airlines, except EasyJet, use Terminal 1. Operators like American Airlines, KLM Royal Dutch Airlines or Lufthansa make use terminal 1 for departures and arrivals. All smoking rooms are located behind security. If you want to smoke before checking in, you are required to go outside the terminal building.
Four out of five smoking rooms are located on the first floor. The first one is before passport control, at the B2 satellite. Next to the Hudson book store. After passport control, you can find a smoking room next to gate B59.
The other smoking rooms can be found at the south side of the terminal in close proximity of Starbucks and Caio. The last one at the A-gates, between gates A71 and A80. Across from the Inamore café.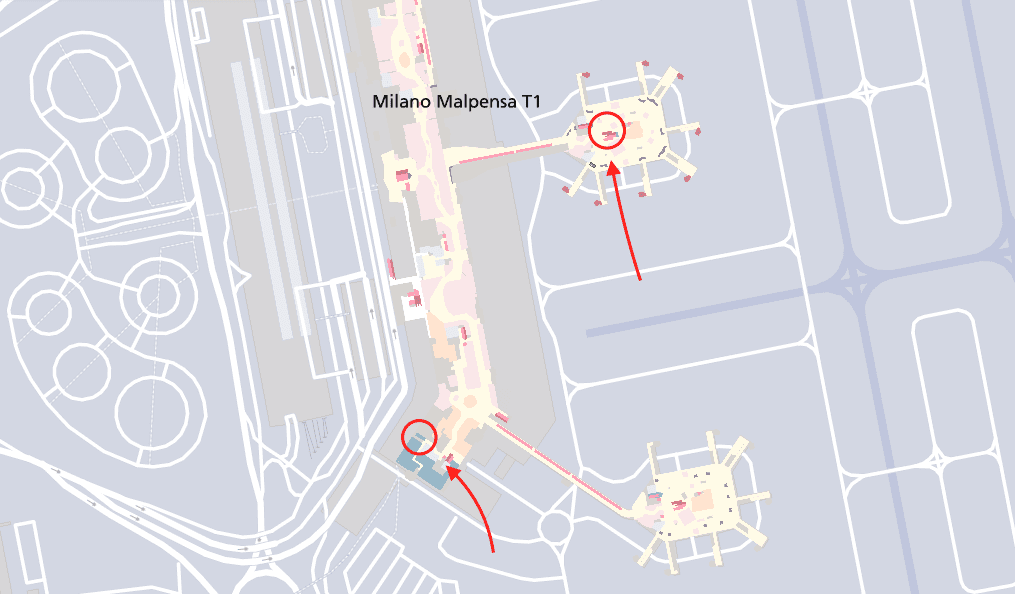 Terminal 2
Only EasyJet uses this terminal building. EasyJet is using Milan Malpensa as an HUB for travel all around Europe. The smoking room is located on the southeast corner, between gate D08 and D09.
Milan Malpensa airport serves the most daily flights from the Milan metropolitan area. The most frequented airports are Paris Charles-de-Gaulle and Amsterdam Schiphol Airport.
Most popular destinations at Milan Malpensa Airport
Catania
Olbia
Palermo
Catanzaro/Lamezia
Paris Charles de Gaulle
New York JFK