There is plenty of room for smoking at Tallinn Airport. You can smoke at multiple spots inside the main terminal, all behind security. Smoking areas are accessible for passengers on Schengen and non-Schengen flights.
Just after security control, you can hop into a smoking area. You will find it next to the restaurant that is called 'Street food'. It is also on the route to the baggage claim carousels.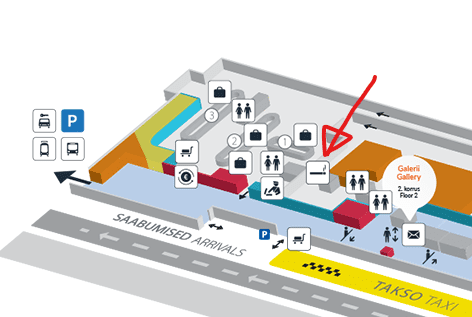 Tallinn Airport mostly serves passengers within the Schengen jurisdiction. There are two smoking areas closely located to serve those travelers. You will find one at gate 7, close to Subway. The other one is at gate 8, next to the Aviation Legend Pub.
At the end of the concourse is the passport control. When you pass this security checkpoint, you are in the non-Schengen part of the terminal. There is a smoking room next to the Tallinn Duty Free store and the restrooms.
Lennart Meri Tallinn Airport is the main airport of Estonia's capital. It is located conveniently close to the city center. It is a large city with approximately 450.000 inhabitants.
The Estonian airport mostly serves European destinations, with Helsinki being the most frequented route. The capital of Finland is a short hop over the cold waters of the Gulf of Finland. Airlines like AirBaltic, Finnair, SAS and Ryanair frequent Tallinn Airport.
Most popular destinations at Tallinn Airport