Is there a smoking area at Dublin Airport?
Yes, there are smoking areas available at Dublin Airport to accommodate the needs of smokers. 1 after security and 2 before security.
Locations of smoking areas at Dublin Airport
Dublin Airport has two terminals: Terminal 1 and Terminal 2. The smoking area after security is located in Terminal 1. Specifically, you can find it at The Garden Terrace.
The good news for passengers at Terminal 2 is that the two terminals are interconnected, so you can easily walk to the smoking area in Terminal 1.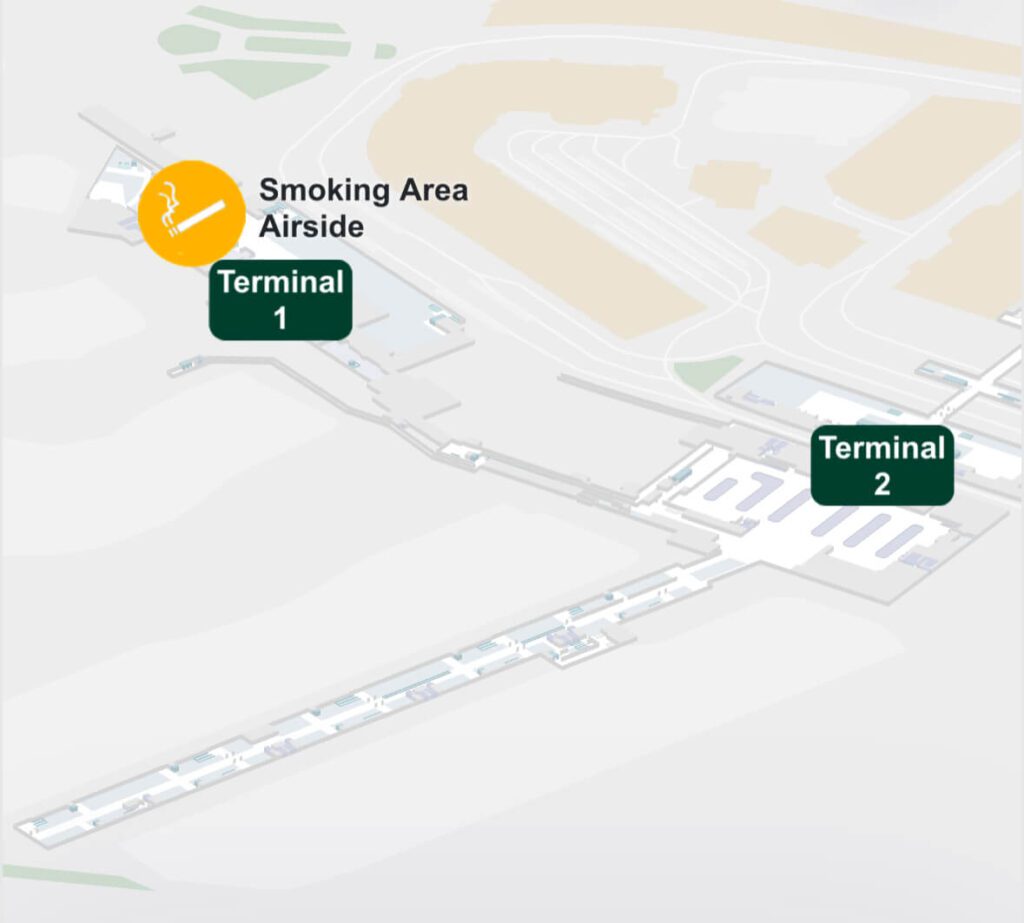 For those looking for smoking areas before security, there are two options available:
One is located outside Terminal 1 arrivals.
The other is situated outside Terminal 2 departures.
These before-security smoking areas provide convenient options for travelers who want to enjoy a smoke before going through the security checkpoint.
Extra information about the City of Dublin
Before or after your flight, you might be tempted to explore the vibrant city of Dublin. Known for its rich history, lively culture, and friendly locals, Dublin offers a multitude of attractions. Don't miss out on visiting the Guinness Storehouse, Trinity College and the Book of Kells, Temple Bar, and the picturesque Phoenix Park. Dublin is a city that seamlessly blends tradition and modernity, making it a must-visit destination.
Is Dublin Airport a comfortable airport to Travel?
Dublin Airport prides itself on offering a comfortable and efficient travel experience. It boasts modern facilities, a wide range of shops, restaurants, and lounges, and a commitment to providing excellent customer service. With its clear signage and helpful staff, navigating through the airport is a breeze. Whether you're a seasoned traveler or a first-time flyer, Dublin Airport strives to make your journey as smooth as possible.
What airlines use Dublin Airport?
Dublin Airport serves as a hub for various airlines, making it well-connected to both domestic and international destinations. Some of the prominent airlines operating at Dublin Airport include Ryanair, Aer Lingus, British Airways, KLM, and American Airlines. With such a diverse range of carriers, you'll have plenty of options when booking your flights to and from Dublin.
Most popular destinations to and from Dublin Airport
Dublin Airport is a gateway to many exciting destinations. Some of the most popular routes to and from the airport include:
Manchester
Edinburgh
Birmingham
Paris Charles de Gaulle
London Stansted
Malaga
Faro
Whether you're planning a business trip, a European adventure, or a relaxing getaway, Dublin Airport's extensive network of flights ensures you can reach your desired destination with ease.