Zurich Airport provides multiple designated smoking areas to accommodate the needs of both Schengen and non-Schengen passengers. With approximately 20 to 30 smoking areas scattered throughout the airport, you can rest assured that there's always one close by when the urge to smoke strikes.
Locations of Smoking Areas at Zurich Airport
For travelers wondering where they can find these smoking zones, we've compiled a list of smoking areas close to various gates and nearby shops or restaurants:
One level above gate A50, next to the Hudson store.
Across gate B08, close to the Bellevue bar.
Next to gate B35, near Pret A Manger.
Next to gate D35, conveniently situated close to the Startbar and Pret A Manger.
Between gate E23 and gate E25.
Next to gate E34 and gate E35 (arrivals only).
Next to gate E46 and E47 (arrivals only).
These strategically placed smoking areas cater to your smoking needs whether you're waiting for your departure, arrival or transfer at Zurich Airport.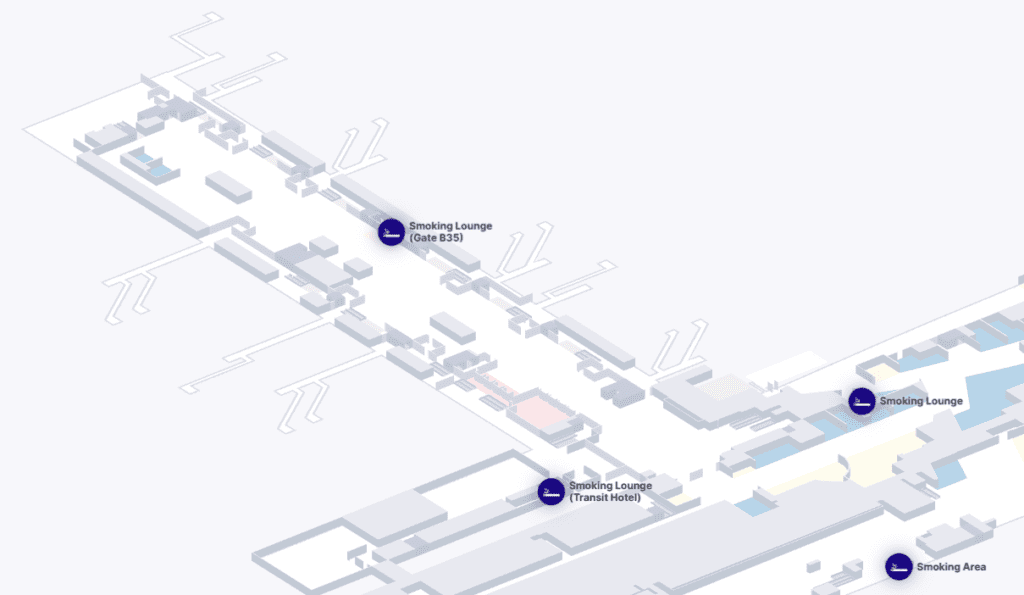 Zurich Airport terminal overview
Zurich Airport is home to two terminals, both seamlessly connected to each other, making it convenient for travelers moving between terminals. While most gates are Schengen, it's essential to note that the E-gates and a few D-gates are non-Schengen. Don't worry, there are smoking areas in close range of these gates.
Extra Information about the City of Zurich
While you're at Zurich Airport, you might be curious about the city itself. Zurich is Switzerland's largest city and a global financial hub known for its picturesque landscapes, historic Old Town, and vibrant cultural scene. If time permits, consider exploring the city, which is just a short train ride away from the airport.
Is Zurich Airport a comfortable airport to travel?
Zurich Airport is renowned for its top-notch facilities and services, providing travelers with a comfortable and pleasant experience. Whether you're looking for dining options, duty-free shopping, or relaxation lounges, Zurich Airport has you covered. The presence of multiple smoking areas further enhances the comfort and convenience for travelers with nicotine needs.
Airlines frequenting Zurich Airport
Zurich Airport is a major hub for various airlines. Some of the airlines frequently using Zurich Airport include Swiss, Austrian Airlines, Edelweiss Air, Helvetic Airways, and Air Baltic. These carriers offer a wide range of domestic and international flights, making Zurich Airport a vital gateway for travelers.
Most popular destinations to and from Zurich Airport
If you're curious about the most popular routes from Zurich Airport, here are some destinations that are frequently visited:
Paris Charles de Gaulle
Dusseldorf
London City
These destinations showcase Zurich Airport's connectivity to key European cities and international hubs, making it a preferred choice for both leisure and business travelers.